Welcome to First Lutheran
"One in spirit and purpose" – Philippians 2:2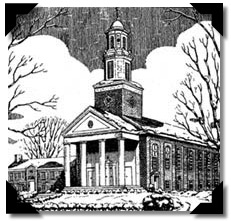 Thank you for visiting us at First Lutheran, and welcome! We hope you will take some time to learn more about us, and pray this will lead you to come meet and worship with us. Whether you're a long-time Christian or have never set foot in a church, whether 2 years old or 92, you are welcomed with open arms and hearts; there is a place for everyone here.
One of our guiding scriptures is the one listed above, Philippians 2:2. In a time when anyone can connect (technologically speaking) anywhere in the world, many feel disconnected, personally and spiritually. But our church is a family whose goal it is to provide those connections, through Christ and His boundless love. We strive to support and love one another, and to seek and follow God's calling for us as His family. We strive to be "one in spirit and purpose", and that is a great comfort in this world of distances and uncertainties.
We are a Bible-based church, and we worship the God who loves us so much, He sent His only and perfect Son to die for us, that we might be ensured of an eternal life in heaven. We find great joy in His promises to us, in His desire to have a personal relationship with each of us, and in His desire to bless our lives richly with His love and deep mercies.
We invite you to come and meet us at First Lutheran Church. We are a vital, growing congregation, gathered around God's Word and His gifts of baptism and communion.
Explore our website, then come join us for a worship service, bible study or special event; it'll be our sincere pleasure to have you with us!
"If you have any encouragement from being united with Christ, if any comfort from His love, if any fellowship with the Spirit, if any tenderness and compassion, then make my joy complete by being like-minded, having the same love, being one in spirit and purpose." – Philippians 2:1-2